Airboat Frequently Asked Questions
You may either click on a question to view the answer, or simply scroll down the page.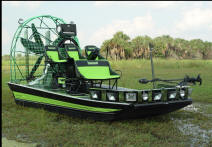 Describe an Airboat?
An airboat is a water transportation vehicle and can be used for many purposes. The propeller of an airboat is used to achieve forward motion by turning up to 2800 RPM's. The propeller itself being an airfoil, while turning generates thrust directly out the stern of the airboat. The rearward thrust propels the airboat forward. All propulsion and navigation functions are in the air, not in the water, which gives the airboat capability of navigating on land or water provided that the airboat is constructed with a ultra high molecular plastic and or a polymer bottom and that the airboat has a sufficient thrust to weight ratio to move. You steer the airboat by a rudder or rudders positioned in the air stream at the rear of the boat. An airboat is a wind machine that is very similar to an airplane with respect to how it operates.
What are the advantages of having an Airboat?
There are several advantages to having an airboat. An airboat can go just about anywhere on land or water that most ordinary boats can not. Airboats can operate in the shallow waters such as swamps and marshes or in deep waters. Airboats can go up to 70 miles per hour. Even faster on snow and ice if you DARE!
The propulsion system on an airboat is never in the water, it is entirely above the water and any engine leaks would be collected in the bottom of the hull. Also the airboats do not project sound or vibration in the water like an ordinary boat would. The sounds made by an airboat occur at a low frequency, allowing a closer approach to wildlife.
An airboat can be used for personal airboating, aquatic control, law enforcement, seismograph, hunting, and fishing and there are so many other reasons for owning an airboat.
What is a Airboat Belted Reduction Drive Unit?
In 1989 Robert R. Eakin received a U.S. Patent for his invention which is the Airboat Belted Reduction Drive Unit. This drive unit is a belted transmission that was designed for airboats which will attach an automobile engine and the propeller. The belted drive unit allows the engine to achieve its maximum sustainable rpm's while turning the propeller at its normal rpm to increase thrust and reduce the noise levels. Century Drive Units Inc. continues today to manufacture the quality products that airboat users have come to expect and trust.
Why would it be better to have a Belted Reduction Drive Unit?
Airboats can use belted reduction drive units to increase torque. By using a 2 to 1 ratio belted reduction, the auto engine will rev up to 5,200 RPM's while allowing the propeller to turn at 2,600 RPM's for more torque and greater power. With this belted reduction drive unit you will get the maximum torque transfer to turn your propeller. An engine with a belted reduction drive unit will swing a bigger propeller, a propeller with more blades, and a greater angle of attack or (more pitch).
A wider, longer propeller turning lower RPM's will produce the same if not more thrust as a small propeller at high RPM's and produce far less noise. The key to a quieter airboat is to keep your tip speed as close to or under .6 mach.
To calculate your tip speeds use the following formula:
Diameter x RPM's ÷ 256,000 = mach
Example: 82" x 2000 RPM's ÷ 256,000 = .641 mach
A belted reduction drive unit is the most cost effective method to use the horsepower produced. The performance of the airboat will increase by the amount of the ratio of reduction. Horsepower is constant and cannot be increased through a transmission, however you can increase torque output to the propeller, which makes for a faster and quieter airboat. Our belted reduction drive unit requires minimal maintenance.
How do you produce more torque and thrust at lower propeller RPM's with larger diameter propellers?
You can achieve this by using a 2.3 to 1 ratio belted reduction drive unit from Century Drive Systems, Inc. There are other ratios available for you to choose from. For best results use a high performance engine with a roller cam and lifters designed to operate at 5000 RPM's. A marine or automotive engine with a belt reduction drive in combination with a composite wide blade propeller is an industry standard. Almost any mechanic can repair an automotive engine with a belted reduction drive unit.
What are the maintenance requirements for Airboat Belted Reduction Drive Units:
Adjust the belt 3 or 4 times over its useful life
Grease each bearing with two pumps of grease every 16 to 20 hours
Detailed instructions as follows:
How do I adjust the drive belt on my Airboat?
Remove the 9 3/8" - 16 hex cap screws from the upper assembly. Then while holding pressure inward turn the bearing holder clockwise to tighten the belt. Temporarily put in (4) 3/8" - 16 x 1½" cap screws. Then rotate the engine a few revolutions by hand without starting the engine, to center the belt. Check the belt tension by having a helper hold downward on the propeller tip to make a slack side to the belt. Then by feeling the amount of belt deflection. The belt should be snug but not drum tight. If your belt is too tight, you could cause premature pulley or bearing wear. Readjust to the proper tension, then put in all (9) 3/8" - 16 cap screws and lock washers, then rotate through again and recheck. It is normal to hear some belt rumble between 600 - 850 RPM. If you hear a belt whine noise the belt is most likely to tight.
How do I grease my belted reduction drive unit for my airboat?
Century Drive Systems, Inc. recommends using (2) pumps of Pennzoil Red Grease, Stock # 7772 or equivalent every 16 - 20 hours of unit operations. Apply grease in (2) upper bearings and (1) lower bearing with only (2) pumps per bearing using the recommended high-temperature bearing grease. (CAUTION: DO NOT OVER-GREASE BEARINGS) Adding too much grease may cause damage to the dust and grease seals which could result in premature wear. After 5 - 10 hours of operation, it is recommended that all drive unit bolts be re-torque and verify that the lower bearing set screw or ring clamp are still tight.
For Counter Rotating Upper Assemblies:
The first oil change on our Counter Rotator Upper Assemblies should be done after (20) hours of breaking time and then we recommend changing your unit oil every (6) months or (100) hours of use. Do not forget you still must give the lower bearing (2) pumps of grease every 16 - 20 hours.
How do I remove the Outboard Lower Bearing?
Unbolt the bearing by removing the (4) 3/8" - 16 x 2" cap screws and loosen either the set screw bearing (SFC-24) or remove the lock ring bearing (SFC-24TC). Polish any exposed shaft area out past the bearing to remove any rust. Then apply some penetrating oil to help remove the inner race of the bearing remove from the shaft. Rotate the outer flange portion of the bearing so that the (4) holes are not over the (4) tapped holes in the main case to avoid damaging the case threads when removing the bearing. All (4) holes in the bearing flange that is used to bolt the bearing on have ½ - 13 NC threads inside. Use (4) pieces of ½" - 13 x 5" long all thread with (2) nuts jammed together on one end of each to act as draw bolts turning all (4) all thread equally to draw the bearing off the shaft. Be sure to only turn draw bolts (1) revolution each at a time.
NOTE: You may need (2) aluminum shims about 1/8" thick to place on the inside of the housing between the end face of the lower pulley and the housing. This will give the pulley a positive stop and keep you from bending your flexplate.
Once the bearing is off the shaft, you should verify the shaft size. Our specifications on the shaft end is 1.4995 diameter + .0002 - .0000. You may still use the same shaft with as much as .002 undersize as long as you are sure that either the set screws or lock ring on the bearing are firmly secured to the shaft to keep the shaft from spinning inside of the bearing's inner race.
How do I purchase a Airboat Reduction Belted Drive Unit?
You may contact a Dealer nearest to you from our posted dealer list on this website, or if there is not a Dealer in your area contact our Customer Service / Sales Department at (814) 677-7100 or toll free at 866-679-4200. You can also fax us at (814) 677-7102 or email us at info@centurydrives.com.