CH-3 Counter Rotating Airboat Belted Reduction Drive Unit
Powerful, Dependable, Quiet Performance with thousands of hours of operations.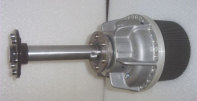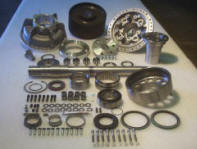 The CH-3 Counter Rotating drive units are designed for a large block GM, Chevrolet, and Cadillac engines. The CH-3 Counter Rotating models can bolt to GM V-8, Small Block, V-8 Big Block. CH-3 Counter Rotating models are used on 16' and larger airboats.
The available ratios for a
CH-3 Counter Rotating Drive Unit are:
1.774 to 1
2.661 to 1
2 to 1
3 to 1
2.3 to 1
3.5 to 1
1.5 to 1
2.25 to 1
Special Order
Counter Rotators are also
available in CH-4 models
2.52 to 1
3.78 to 1
2.67 to 1
4.0 to 1
The CH-3 Counter Rotating models are 5" wide and can use HPPD Plus or Blackhawk belts which are rated 60% stronger than the Standard HPPD Plus style. For Counter Rotators we recommend the Blackhawk Belt.
The CH-3 Counter Rotating drive units have many benefits. When using the Counter Rotating drive units you can increase your thrust by about 30% and reduce noise levels by 25%.
Our Counter Rotating drive unit gives you the option to use wide, narrow, or a combination of different propellers.
The Counter Rotating Upper Assembly can be used to modify your current belted reduction drive unit by replacing the standard upper assembly on your late model CH-3 drive unit into a Counter Rotating system.
One of the many benefits of having a Belt Driven Counter Rotating drive unit is it eliminates the shock loads that can destroy or damage gear drives.
The Counter Rotating drive unit evens out the work load of the transmission by using (4) planet gears that are driven by (1) floating sun gear this in turn drives the internal ring gear to achieve the counter rotation.
The units we manufacture carry a 200 hour or one year factory warranty.
Our CH-3 models are rated for 600 horse power engines.
Great for government and law enforcement agencies. A much quieter, more powerful system that requires minimal maintenance.
This is an ideal unit for heavy boats, hauling gear, work boats, and tour boats.
Our drive systems are a perfect fit for all airboat applications. Examples: Seismograph, Military, Hunting, Fishing, EPA, Law Enforcement, Aquatic Control, Tour Boats and Pleasure Craft.
All of our airboat drive unit products are manufactured under Patent # 4884949 and 6540570B1
Complete torque cancellation from the counter rotating propellers.
Instructions for CH-3 Counter Rotating Drive Unit